Our organic extra virgin olive oil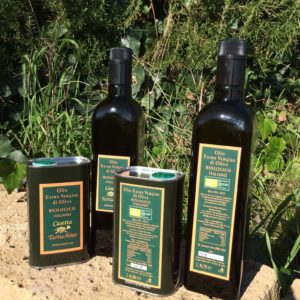 The Olive Tree, seemingly originated in South Asia, and then moved to Egypt and Greece, spreading to whole Mediterranean area.Fossil finds discovered in Negev witnesses tha 45.000 years ago human new it. The old roman historian, Columella, wrote "Olea primum arborum est" ("The olive tree is the primary tree"). It is common in hystory to mention "anointed by the Lord", and the branch that the dove took to the Arch of Noe was from an olive tree; olive mention is frequent in Greek art and mithology.
Our organic evo oil
We produce a wonderful extra virgin olive oil, a bit bitter and a bit spicy. It is rich in healthy polyphenols, unsaturated fats and vitamin E.
Podere Tartuchino is located in an area where oil production is a tradition. In our home town, Semproniano, there is a onethousand year-old tree specimen, the Fibbianello Olivone, which, along with other ancient trees around it, bears witness to this tradition. When we arrived at Tartuchino in 1990, we found a beautiful olive grove with  perched on top of a panoramic hill. From this piece of land overlooking the Maremma, we began cultivating our love for olive oil. We have recovered some olive trees that, over the years, had been covered up by overgrown vegetation, and we have planted some "children" of the Olivone of Fibbianello. A few years back some vandals unexplicably tried to destroy the Olivone, but the tree has recovered and sprouted new branches. To preserve the genome of this magnificent specimen, the Leopoldo Institute of Lorena Grosseto has entrusted some of its cuttings to local farmers. Since we arrived, we have planted more olive trees of tipical tuscan varieties as Leccio del Corno, Moraiolo,   Leccino and Pendolino, which is a pollinator. We are patiently waiting for them to start producing! In 2016 we obtained the European organic certification, so it seemed the best time to start selling. We take our beautiful olives to be cold pressed on the same day that they are collected, and yearly quality test results have rewarded our hard work.